Overview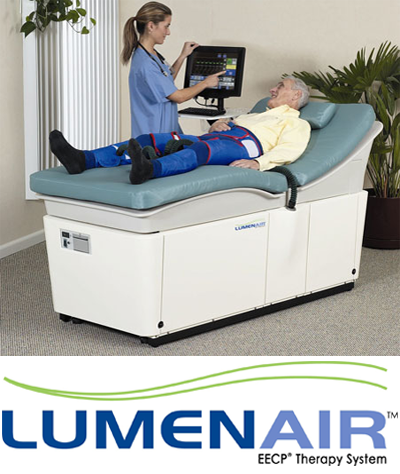 Why VasoMedical's EECP®?
In a sentence... It's Good Medicine and Good Business.
Counterpulsation is a treatment method to increase blood flow in the body and reduce workload of the heart. External counterpulsation (ECP) is a term used to describe systems using a single hydraulic chamber wrapped around the lower extremities. Pressure is applied to the chamber during cardiac diastolic relaxation phase and removed during ejection systolic phase. The devices were inefficient and difficult to use. During the past 25 years, technological and clinical advancement led to the development of EECP® - Enhanced External Counterpulsation, the therapeutic systems exclusively designed and manufactured by VasoMedical with sequential pneumatic compression to increase retrograde diastolic flow, venous return and systolic unloading, greatly improve the ease of use, patient safety and clinical effectiveness.

Since the development of EECP®, an abundance of research has reviewed the mechanisms of action associated with the overwhelming positive benefits in patients who undergo a course of EECP® Therapy. Only EECP® has been proven clinically to produce the acute hemodynamic effects associated with increased diastolic augmentation, systolic unloading, and increased cardiac output, with a decrease in myocardial oxygen requirements. More recently, concrete evidence supports many of the hypotheses as to how exposure to EECP® treatment and its positive acute hemodynamic benefits can also recruit collateral blood vessels to ischemic regions, improve neurohormonal factors, improve endothelial function, reduce proinflammatory cytokines and adhesion molecules, and reduce arterial stiffness. All of these combined factors assist in the improvement of blood flow to ischemic regions and explain the life-changing clinical benefits observed in the majority of patients who undergo a course of EECP® Therapy. Furthermore, it has been observed repeatedly that cardiac patients who undergo EECP® treatment have seen improvement in circulatory processes in systems other than cardiac (i.e. diabetic neuropathy, PVD, erectile dysfunction, etc.) and these findings will hopefully lead to more research to expand the indications for use of external counterpulsation not just for cardiac patients but for many patients who suffer from diseases of the circulatory system in the future.
EECP® (Enhanced External Counterpulsation) systems are FDA cleared non-invasive medical devices used as an adjunctive treatment for patients who suffer from coronary artery disease or ischemic heart failure. CMS (Centers for Medicare and Medicaid Services) reimbursement coverage has been provided for the use of ECP since 1999 for patients who have been diagnosed with disabling angina (Class III or Class IV, Canadian Cardiovascular Society Classification or equivalent classification) and whom are not readily amendable for interventional procedures. EECP® Therapy is a low-risk, cost-effective option for patients who suffer from coronary artery disease and its associated symptoms.
The specific features of VasoMedical's EECP® Therapy systems are:
Clinical proven, evidence-based therapeutic systems documenting the effectiveness and safety of EECP® Therapy in the treatment of patients with coronary heart disease with:

Demonstrated to be safe and effective in hundreds of articles, with the majority published in peer-reviewed, major medical journals
4 randomized, controlled prospective studies for the treatment of patients with angina pectoris and heart failure
2 International patient registries of more than 8,000 patients monitoring clinical outcomes and adverse events
Clinical studies demonstrating the long-term effects with up to 5-year follow-up
Numerous studies investigating the mechanisms of action of EECP® treatment


Only VasoMedical's EECP® Therapy is supported by randomized, controlled clinical studies published in peer reviewed medical journals. Most other manufacturers of external counterpulsation devices don't have any published clinical evidence showing the efficacy of their device.

Proprietary technologies with specific design providing safety and effectiveness
Specific electronic circuitry to reduce motion artifacts in provide stable triggering signals to operate in synchronization with each cardiac cycle
Application of optimal pattern in the external applied pressure to provide proven maximal hemodynamic effects and reduce pulmonary congestion possibility
Specific timing logics to limit inflation during systolic to avoid adding burden to the heart
Incorporation of oximetry to monitor oxygen saturation to monitor patient safety
Specific logics to handle arrhythmias, increase treatment effectiveness and reduce patient discomfort
User friendly interface to provide operator with clear touch-screen operation to reduce confusion and hazard to patients
Specific designed inflation/deflation valves to increase rate of inflation and deflation to optimize physiological effects
ISO 13485 Annex II Certified quality process company
Manufactured according to EN 60601 Medical Electrical Equipment Part 1-4 Standard
Software designed and tested according Medical Device Risk Analysis EN 149971


Specific Training and Service Programs

Expert certified quality operation training program to ensure safe and effective delivery of EECP® Therapy
Specially trained and authorized service technicians to perform quality and on-time service to maintain and repair EECP® Therapy systems
Post Warranty Service Agreement offerings to meet your needs
Availability of Service Training Manual for your dedicated staff
VasoMedical's EECP® Therapy systems are the only systems that have been designed with years of research based upon real world technical and clinical know-how and we will continue to be the world market leader in providing non-invasive, safe and effective treatment to patients with cardiovascular disease.

VasoMedical EECP® Therapy is good for your: Patients, Practice, and Business!
---